Musik & Downloads
Die erste CD von White Dee heißt "In Time"
Auf dieser Seite sind ein paar Hörproben zum Download bereitgestellt.
Um mehr Songs zu hören klicke auf myspace
the honest liar
a spell
the turning
fall inside
sometimes
golgatha
two fools
separating time
hard to take
evil part
high time
here and there
Programm
SATISFIED
White Dee
UNITY
White Dee
SOMEONE
White Dee
SEPARATING TIME
White Dee
FRIEND OF THE DEVIL
Cover
FOR YOU
White Dee
INNER LIBERTY
White Dee
THE GNOME
White Dee
WIR WEBEN
Cover
SEPTEMBER
White Dee
DOUBTS
White Dee
HERE AND THERE
White Dee
ME
White Dee
HARD TO TAKE
White Dee
LITTLE TIN SOLDIER
Cover
YOUR WAY
White Dee
GOLGATHA
White Dee
MIDNIGHT SPECIAL
Cover
CONCERNING WORDS
White Dee
PEACE
White Dee
EVIL PART
White Dee
HONEST LIAR
White Dee
SOMETIMES
White Dee
FALL INSIDE
White Dee
THE TURNING
White Dee
DREAMLAND
White Dee
TWO FOOLS
White Dee
UNIVERSAL SOLDIER
Cover
ALL MY LOVING
Cover
HIGH TIME
White Dee
ACTUALLY
White Dee
SIREN´S SONG
White Dee
A LEAP IN THE DARK
White Dee
A SPELL
White Dee
Pressefoto
Nachfolgend ein Pressefoto sowie ein Mustertext für die Veranstaltungsankündigung.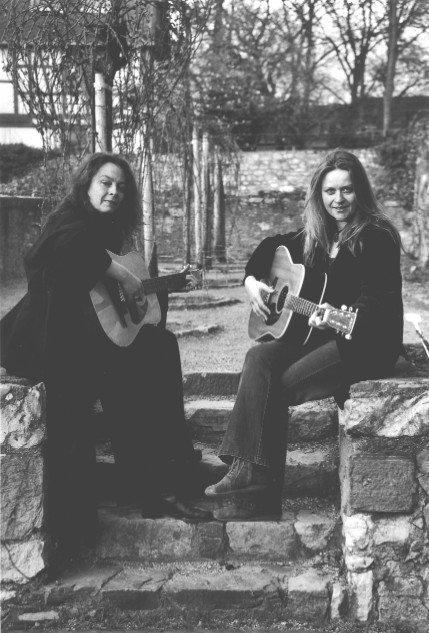 In Zeiten der Wiedervereinigung aller möglichen Bands und Musikformationen gibt es aus dem Raum Wiesbaden ausgesprochen erfreuliche Nachrichten: White Dee treten wieder zusammen auf. Nach fast zehnjähriger (Auftritts-) Pause knüpfen Marion D. (Gitarren, Gesang) und Andrea Weiss (Gitarren, Gesang) an ihre erfolgreiche gemeinsame Musikerzeit an, als wäre ihre Karriere nie unterbrochen gewesen. Ihre vorwiegend folkigen Balladen regen zum Nachdenken an und ihr einprägsamer zweistimmiger Gesang geht unter die Haut. Eine neue CD ist nach dem gelungenen Erstlingswerk bereits in Planung.